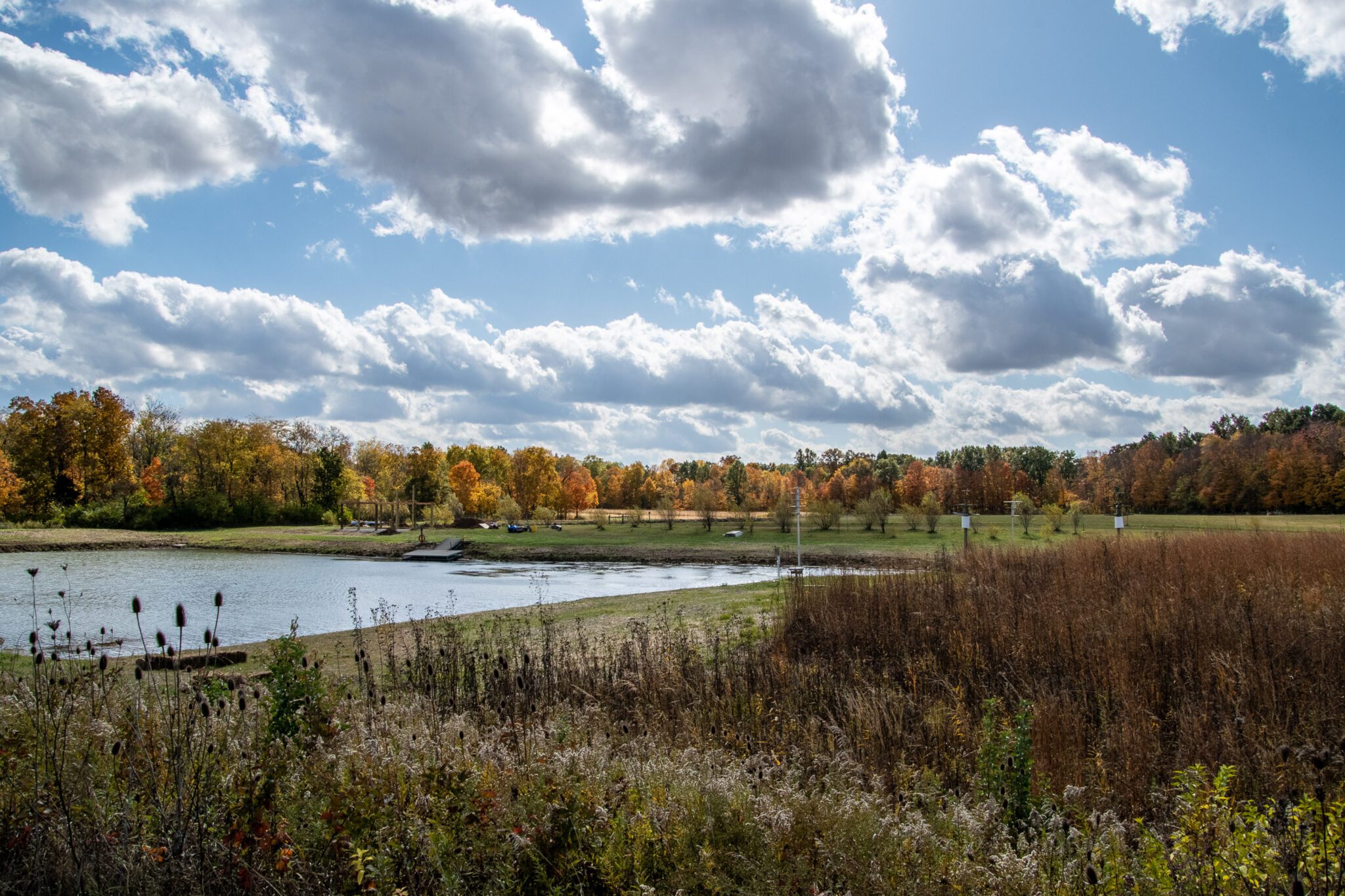 More Than Fish Get Hooked at Stratford Ecological Center
June 21, 2014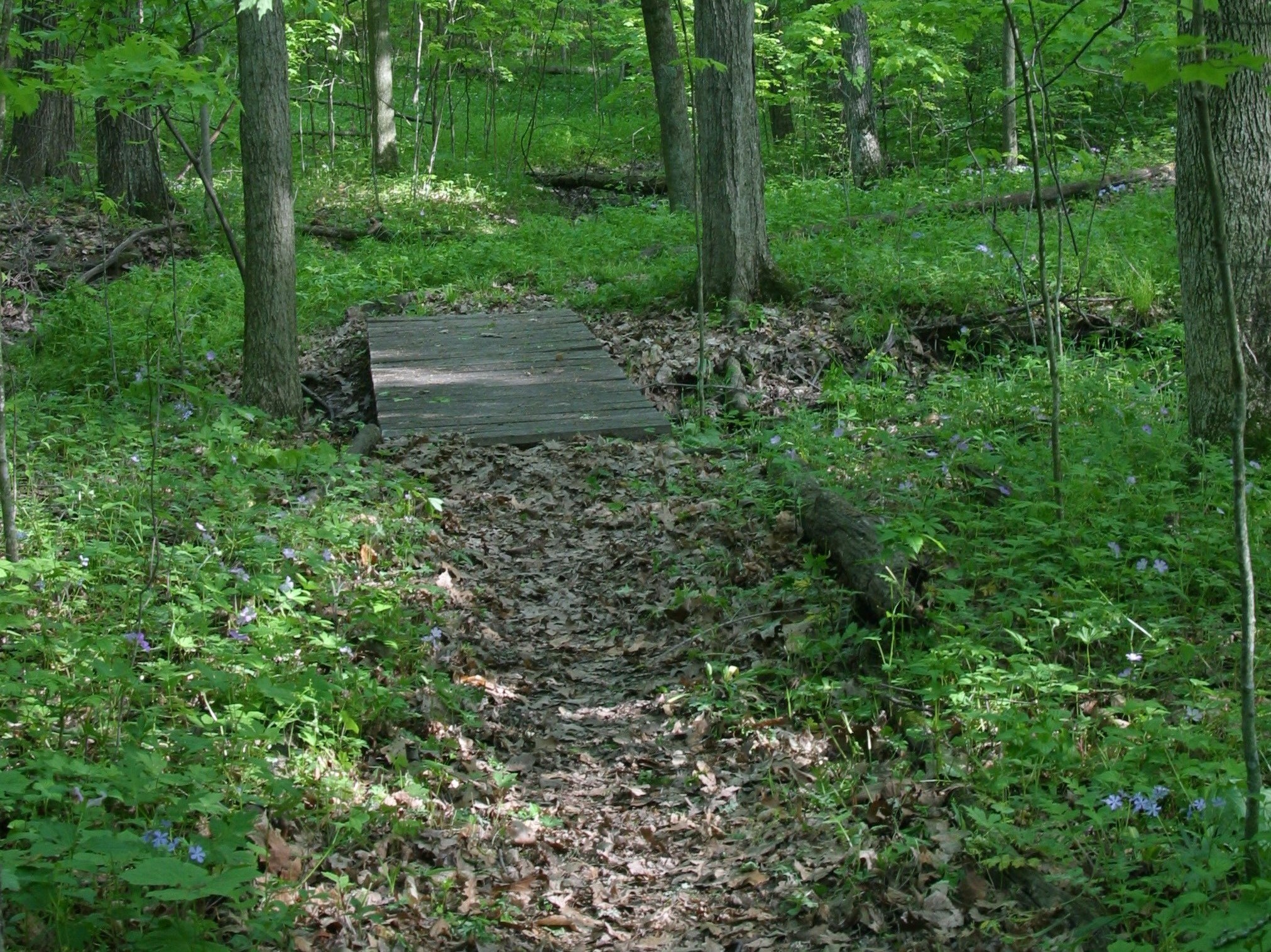 The Story Behind Stratford Ecological Center
August 16, 2014
Published in The Delaware Gazette: July 19, 2014
The heavy rains, intermittent showers, and off target weather forecasts, have yet again prevented cultivation, planting, harvesting and haying during the past month at Stratford Ecological Center on Liberty Road.
The hay fields thrive on the warmth and moisture and growth has been abundant. In order to get the first cutting of hay off the fields and allow the second cutting to grow, Farmer Jeff arranged for an outfit in Coshocton to travel to Stratford to wet bale and make haylage. It was no small operation. They towed two long trailers loaded with tractors and equipment to make round bales, each weighing fifteen hundred pounds, and wrap them in white plastic.
Twenty five bales can now be seen lined up next to the prairie, the equivalent of 625 oblong bales or seven wagonloads. Farmer Jeff will feed the fermented grass to the cows and sheep in situ, if possible, during the winter. The haylage still amounts to only about a third of our needs, but last Thursday we were able to cut the good looking oat hay in the South Pasture, and the clover and alfalfa in fields #1 & 2, to build up our inventory.
Spelt harvest will be in another two weeks if the drier pattern holds. The buckwheat will be ready about the same time, however the spelt is of more value as feed and Farmer Jeff will concentrate on harvesting it first. If it becomes too late to harvest the buckwheat it will be cut, and left to re-seed for the bees' next foraging cycle as they prepare for winter.
Roxie, our sow, has not come into heat since she was artificially inseminated, and her due date is early August. She has put on weight and if all goes according to schedule we should see some development in her mammillae in two weeks. Roxie fooled us last year into thinking she was pregnant, so until we actually see those little brown babes we are not getting our hopes too high!
The first of our beef cattle is scheduled to go to the processors at the end of July. The meat will be ready for purchase in early August. A second batch of lambs left the farm for processing at the beginning of this week. We have to schedule months ahead for a date to take in our livestock. This week we held back some lambs and sent instead our cull goats and ewes. The goat meat will be for sale as cuts of meat, and the mutton in the form of sausages. We invite you to try these less common meats.
The second annual honey bee festival in late June attracted a lot of interest. Twenty people harvested the honey in the morning and 87 carloads attended the afternoon activities. We already have a guest speaker lined up for next year's event.
The Memorial garden behind the Education building has recently increased in size with the addition of more lawn and narrow flower beds planted with prairie plants. It is a peaceful place created to honor members of the family who contributed so much to Stratford Ecological Center's initial development.
Our Adult/Child Garden Tea Party took place last Tuesday afternoon in perfect weather. The Stratford Herb Group planned the colorful hands-on-event. The girls and one boy arranged their own tiny vase of flowers to take home, and collected the ingredients to make sandwiches and teas. One group worked in the kitchen, turning the handle on a one hundred year old metal box to produce whipped cream to top the fresh fruit salad. After they finished they raced to the children's garden and joined another group. A little girl with hearing problems signed a butterfly, and in a flash all the children were chasing after butterflies. It was hard to leave the garden when called, even though we knew the food would be fantastic.
There is still one more opportunity to attend Adult Farm Camp. The last two topics were goats and chickens and next Tuesday, July 22 at six o'clock, is Fence and Forage. The evening will start with a gourmet meal created by our intern chef served family style, followed by a walk through the fields led by Farmer Jeff, and end at the Sugar Shack beside a camp fire to enjoy a dessert of smores. The fee is $25 per person and we need you to call please to make a reservation.
Pauline Scott is a farm and nature guide at Stratford Ecological Center, 3083 Liberty Road, Delaware, Ohio, 43015, Tel. 740 363 2548. Email StratfordCenter@aol.com or visit our web site at StratfordEcologicalCenter.org