Farm and Field Trips

Rate is $4.00 per person per hour, including parents. No cost for teachers accompanying class.
*Teachers – When booking your field trip please let April know if you have a student in your class who needs assistance with the field trip fee.  Field Trip assistance is available first come first serve depending on the availability of funds.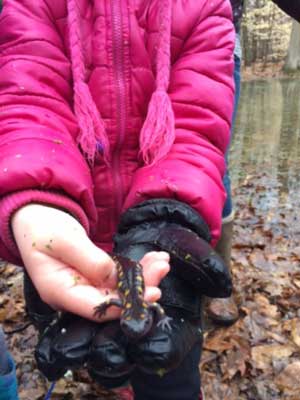 Each spring and fall, school and other youth groups visit Stratford for unforgettable hands-on experiences on a real farm – learning where their food comes from.We invite your class, home school group, scout troop or any group of ten or more to experience Stratford's 236 acre farm and nature preserve. The field trips meet Ohio Academic Standards for Science and are lead by trained Farm and Nature guides. A Farm and Field Trip to Stratford can easily fit into your curriculum. Because of our small class sizes, dates fill up quickly. Please call early to reserve your date.
For open dates or additional information, contact:
April Hoy, Field Trip Coordinator
email:  AprilHoy@stratfordecologicalcenter.org
phone:  (740)363-2548
General Information
Maximum number of students for field trips is 65
For younger grades, we are ideally suited to teaching the basics about plants and animals and for those first experiences in the woods.
Older students will learn about food chains, cycles, biodiversity, and the web of life.
All Farm and Field Trips meet Ohio Academic Standards for Science.
If you have a special area of study you'd like us to cover, please ask and we'll see if we can suit your needs.
Included with your Farm and Field Trip is a classroom presentation prior to your visit to introduce your students to some concepts and excite them about their trip to Stratford.  These pre-visits are for Spring & Fall field trips only (not maple sugar tours).
Spring and Fall Field Trips are scheduled weekday mornings and afternoons.
Non-school group tours are scheduled throughout the spring, fall and winter based on the schedules of our staff.
Quick Links for Teachers & Leaders!
Activity Sheets:
Additional Information:
Minimum number of children in a reserved group is ten, maximum is sixty.
Guided tours are (2019) $4.00 per person per hour, including parents. Teachers are free.
You are welcome to stay and have lunch, during or after your tour, at no additional cost.
For preschoolers, we recommend a one-hour visit.
For older children, we recommend at least a two-hour tour.
If your group can stay longer, 3 and 4-hour visits provide the most fun and most thorough investigations of the farm and nature preserve.
Every group's experience will be different since the children are divided into small groups for ease of travel and a more intimate visit with the animals.
Activities vary depending on season and daily farm happenings.