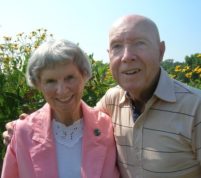 Stratford Congratulates Louise & Clyde!
March 9, 2021


Sap, Lambs, Kids, and a Prairie Burn at Stratford
March 22, 2021
The Closing Circle by Barry Commoner (1971) Commoner says that the earth is a closed circle ecosystem in which everything is connected to everything else. Man's science and the technology that results are dependent upon an analysis of parts. Our economic systems are dependent upon growth fueled by linear piecemeal solutions. As long as the goose lays enough eggs to purchase a new goose the growth systems will persevere. Both of these axioms violate the principles of a sustainable, self-correcting ecosystem. He says that the continuation of life itself was dependent upon the evolution of decay bacteria which created a self-sustaining ecosystem. WE have disrupted that sustainability and need to restore it.
Commoner believes that the imbalance is caused, not by man's biological character, but by his social actions. He is optimistic because social action is something that can be changed. Science can be focused on working within the ecosystem. Economic and political systems can be based on production for the social good rather than for private gain or domination. Focusing on ecological reconstruction would become a self-accelerating process and encourage global cooperation.