All 2019 Farm Camp spots are full. 
Cancellation Policy:
To receive a refund, we must be notified three weeks prior to the camp date.
For questions and more information, please contact the Farm Camp Director, April Hoy at 740-363-2548 or AprilHoy@stratfordecologicalcenter.org
---

Another Great Local Camp!
The Ohio Wildlife Center offers offers wildlife-based nature camps that provide a unique experience of getting up close to wildlife and back to nature. Check out details here>
Camp Scholarships
Scholarship funds are limited and awarded on a first come first serve basis;  If your camper is not awarded a scholarship please indicate if  you wish to register your camper at the full camp fee. If so Stratford staff will call you for payment information.
3 – 5 Year Old Camp
July 29 – August 2
August 5 – 9 (full)
Monday – Friday:
10am – 12pm (full)
Fee: $145
Parent and child will experience the farm together through simple and playful activities. Children will care for the farm animals, spend daily time in the forest, and will discover the joys of planting and tasting things straight from the garden.  Parents will be encouraged to rediscover their sense of wonder as they walk side-by-side with their little explorer.  Treat yourself and your little one to a week together on the farm.
6- 8 Year Old Camp
All 6-8 year old camps are full.
July 8 – 12
July 15 – 19
July 22-26
August 5 – 9
Monday – Thursday : 9am – 3pm and
Friday: 9am – 2pm
Fee: $270
The easy rhythms of the farm will carry the children from chores to play and back again throughout the day.  Hands will be immersed in mud and water, berries and brambles, as the children experience fully through their senses.  Days will become adventures as children explore the forest, turning nature into paint, mossy bark into fairy homes, and holes into hideouts.
6-8 Gear list            Health Form              Trash Free Lunch          Medication Card          Carpool Pick Up Form
9 – 12 Year Old Camp
All 9-12 year old camps are full.
June 3 – 7
June 10 – 14
June 17 – 21
Monday – Wednesday: 9am – 4pm
Thursday: 9am – Friday at noon (1 overnight)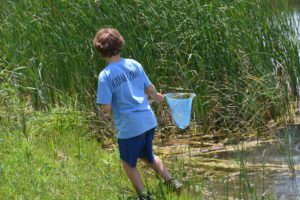 Fee: $300
Bright and early each day, campers will care for the farm animals, feeling the daily cycles of farm life and contributing to the raising of food.   Their hands will plant the fall crops, tend the summer vegetables and take part in harvesting and preparing for the farmer's market.  Throughout the week, campers will go on adventures in the forest, discovering the joys of time spent in nature and the lessons the Earth has to teach.  Their week will conclude with an overnight spent under the stars.
9-12 Gear list         Health Form        Trash Free Lunch             Medication Card              Carpool Pick-Up Form
Junior Counselors
The Junior Counselor program is full.
Fee: $300
If you are a teen who loves nature and the farm, consider becoming a Junior Counselor.  You can enjoy all the fun of Farm Camp while sharing your knowledge with young campers.  Develop your leadership skills by acting as a link between campers and senior counselors with daily camp activities.  You will spend three days with our Environmental Education Interns honing your skills before being assigned to an Intern for a week of fun with the six to eight year old campers.  This is a perfect way to gain community service experience and build your resume for college applications!
Junior Counselors ages 16 – 17 with one year of experience as a J.C. may assist with the 9 – 12 year old camp program. Junior Counselors ages 13 – 17 may assist with the 6 – 8 year old camp program.
J.C Training Camp
June 25 – 27
9am – 3 pm
Junior Counselor Registration Process
Junior Counselor positions are for youth ages 13 – 17, space is limited and are awarded on a first come first serve basis.
Download the Junior Counselor application.
Have the J.C. applicant fill out the application.
Return application & payment via POSTMAIL, Attn: April Hoy 3083 Liberty Rd. Delaware, Ohio 43015. (please keep in mind, J.C. spaces are limited and are first come first serve)
Applications will be accepted postmarked beginning January 12th, via postal mail only.
Once received, the application will be reviewed, you (parent) will receive an email letting you know of your child's acceptance.
If the program is full your child will be placed on a waiting list and you will be notified. We will not hold payment information.
Gear list                Health form                 Trash Free Lunch          Medication Card               Carpool Pick Up Form