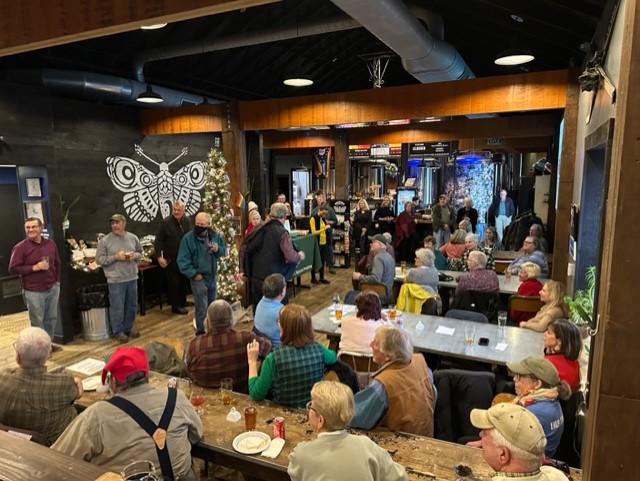 FINAL WINTER PREPARATIONS AT STRATFORD
December 15, 2022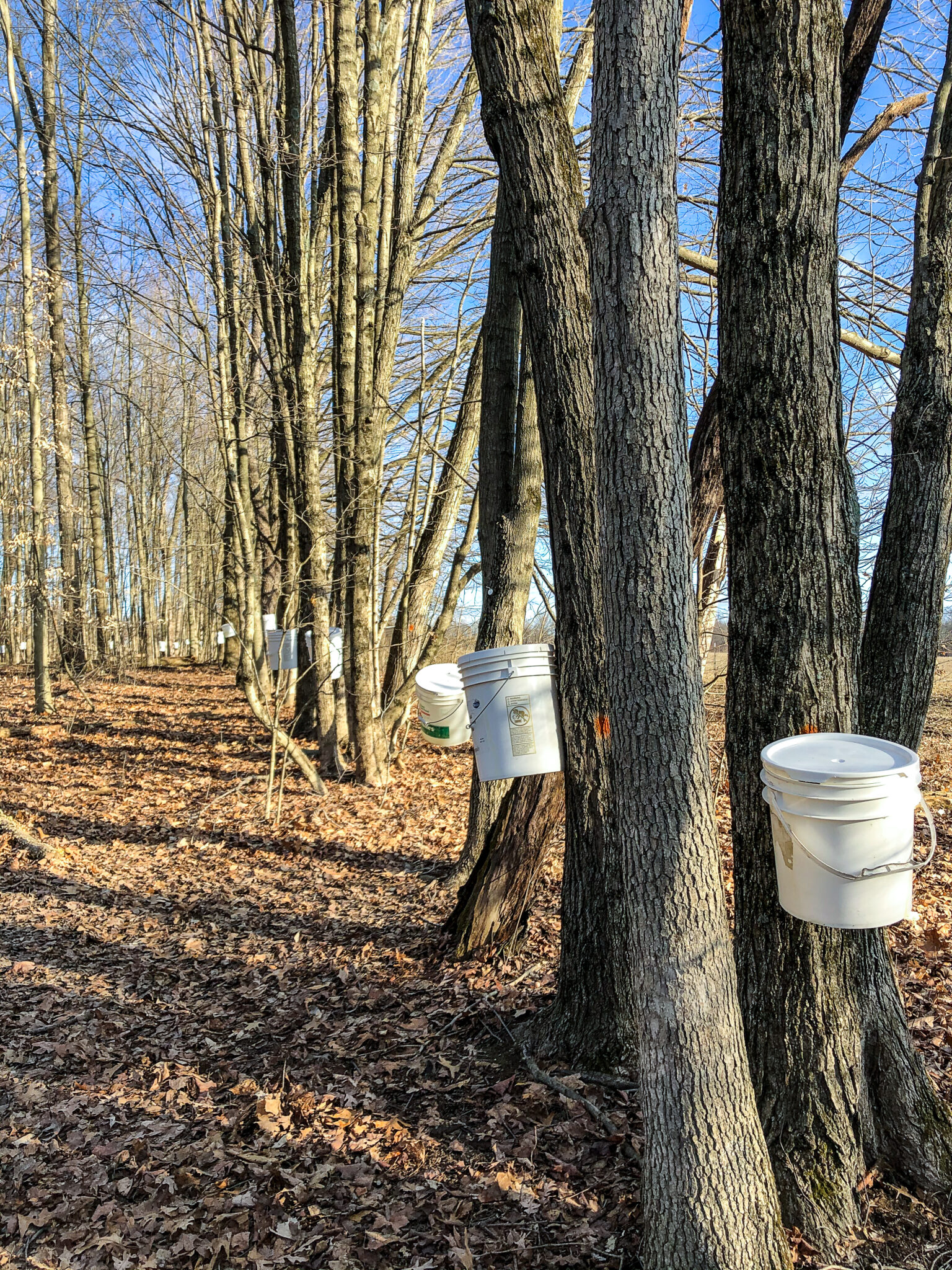 MAPLE SUGARING SEASON STARTS AT STRATFORD
February 15, 2023
The abnormal winter storm that started on Friday, December 23, and created havoc for most of the country, caused fewer problems than anticipated at Stratford Ecological Center on Liberty Road.  The possibility of losing electricity is always a concern.  Pumps operate our two wells, and supply water to the center and the farm, but most importantly, to the animal troughs in the barn, where electric heaters prevent freezing.  We have a generator which runs off a tractor, but it is no easy task to operate in very cold temperatures.  There are plans to purchase a storage battery, charged by the solar panels on the barn and machine shed, for emergency use.  Fortunately, our electricity did not go off!
A donated commercial-size shredder was safely hauled 500 miles over the mountains from Farmville, Virginia by a generous-hearted farmhand accompanied by his wife.  It is huge and consequently can shred tree trunks twelve inches in diameter and thick brush.  Once a cover is made, the unit will be staged wherever needed on the farm.
The garden gang and farmhands returned to Stratford on January 3.  The gardeners gathered in the big greenhouse, where their usual morning work is to harvest greens for People in Need in Delaware.  They were met with a woeful sight. The extreme changes in temperature, along with mold spores from the soil, had devastated much of the plants' leaves.  Farmer Jeff's advice was to make a crisp cut across the firm, intact crowns and dispose of the leaves.  By mid-January the spinach, Swiss chard and Bekana cabbage was looking good.  Bekana is often mistaken for lettuce and used in a chopped salad with rice vinegar dressing.  The Miners lettuce is doing great and expanding its territory, it loves to be cut; to include in a salad.
A new farmhand started on the third.  Cleaning of the orchard chicken coop was top priority, as the chickens had been shut in during the worst of the weather.  There was only one experienced cleaner available, so a voice spoke up and nominated the new farmhand to help!  This brought guffaws of laughter, but he good naturedly accepted, and thankfully Carol, our most seasoned cleaner, turned up soon after.  To our relief the new volunteer did return this past week!
The Master Gardeners of Delaware County were out on-mass in the big room on January 13.  They were preparing 80 mini greenhouses from plastic milk jugs, for the participants of their native seed growing class, scheduled for January 21.  They removed the lids, cut around the center, filled the bottom with Promix, and sowed native seeds.  Then they cut a flap in the top section and duct-taped the center and flap back in place.  The jugs were placed in a holding bed outside the big greenhouse in order to start the stratifying process that gives seeds a head start in the spring.  The flaps are intended to be turned down periodically to allow for light watering, as watering through the neck washes out the seeds.  It is the first time they have used the flap method, as removing the top to water is time consuming, and are keeping fingers crossed it will work.
Early January has provided a good opportunity for staff and volunteers to empty, sort, dispose, move, and take inventory in every inch of the Education building.  This included cupboards, drawers, shelving, file cabinets, walk-in storage, and floor space.  New white wooden storage units were carefully assembled, labeled, and placed where best suited.  The result is amazing, and with our limited space it will certainly help operations move more smoothly this year.
Egg supplies are very slowly ticking up as daylight hours expand.  There is plenty of meat for sale.  Recent additions are cube steak, hot dogs, bratwurst, beef chorizo and summer sausage.  The annual calendar, with a description of each activity, has been posted on our website.  There are some events we have yet to settle on a date.  Farm camp registration is complete and full, with new applicants outnumbering old.  This could be due in part to the increase in area housing and campers aging out of the system.  We hope you will peruse the website and find many reasons to join us this year.
Pauline Scott is a farm and nature guide at Strafford Ecological Center, 3083 Liberty Road, Delaware.  She can be reached at 740 363 2548 or by email at info@stratfordecologicalcenter.org Stratford's website is www.StratfordEcologicalCenter.org