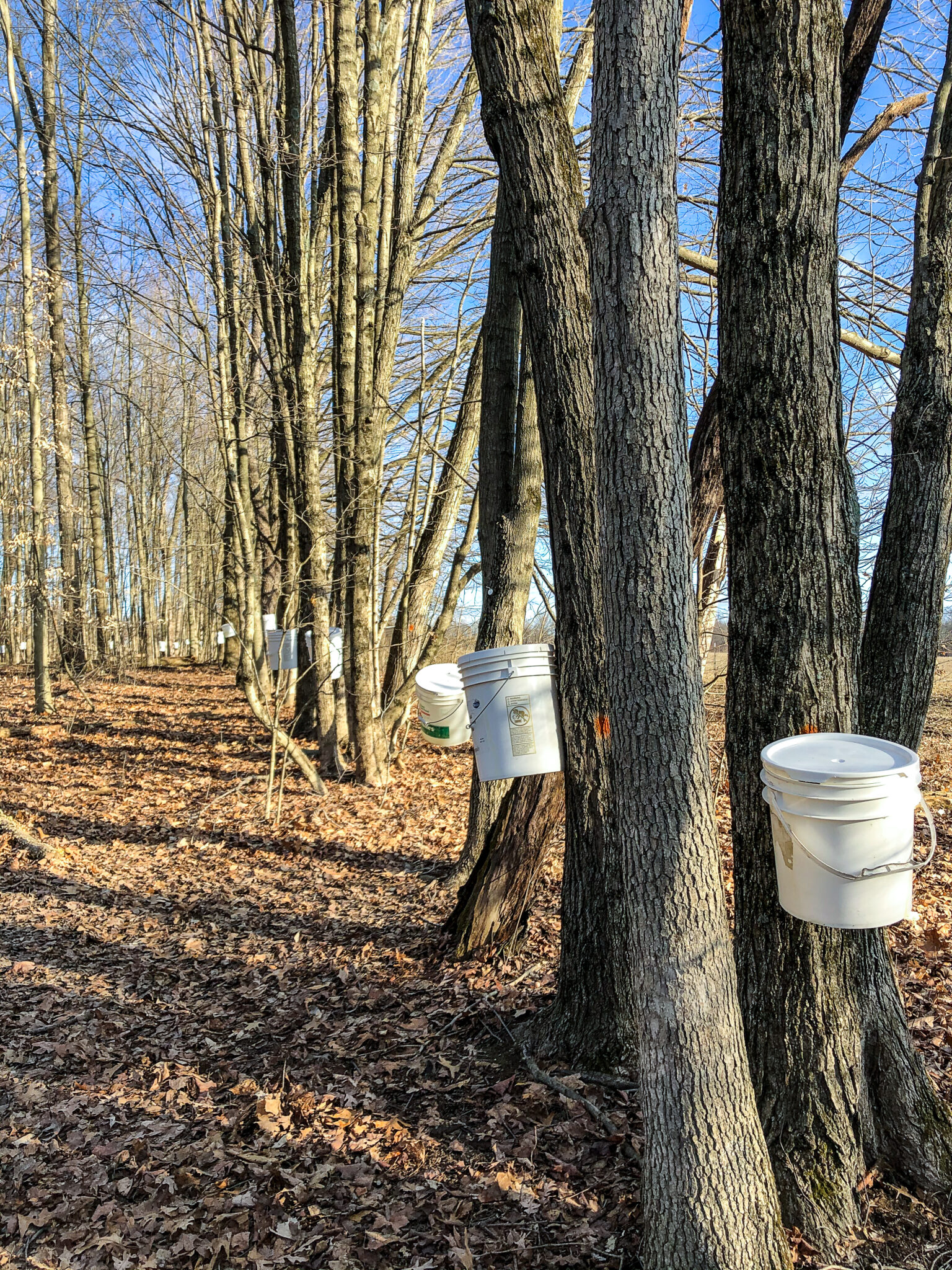 MAPLE SUGARING SEASON STARTS AT STRATFORD
February 15, 2023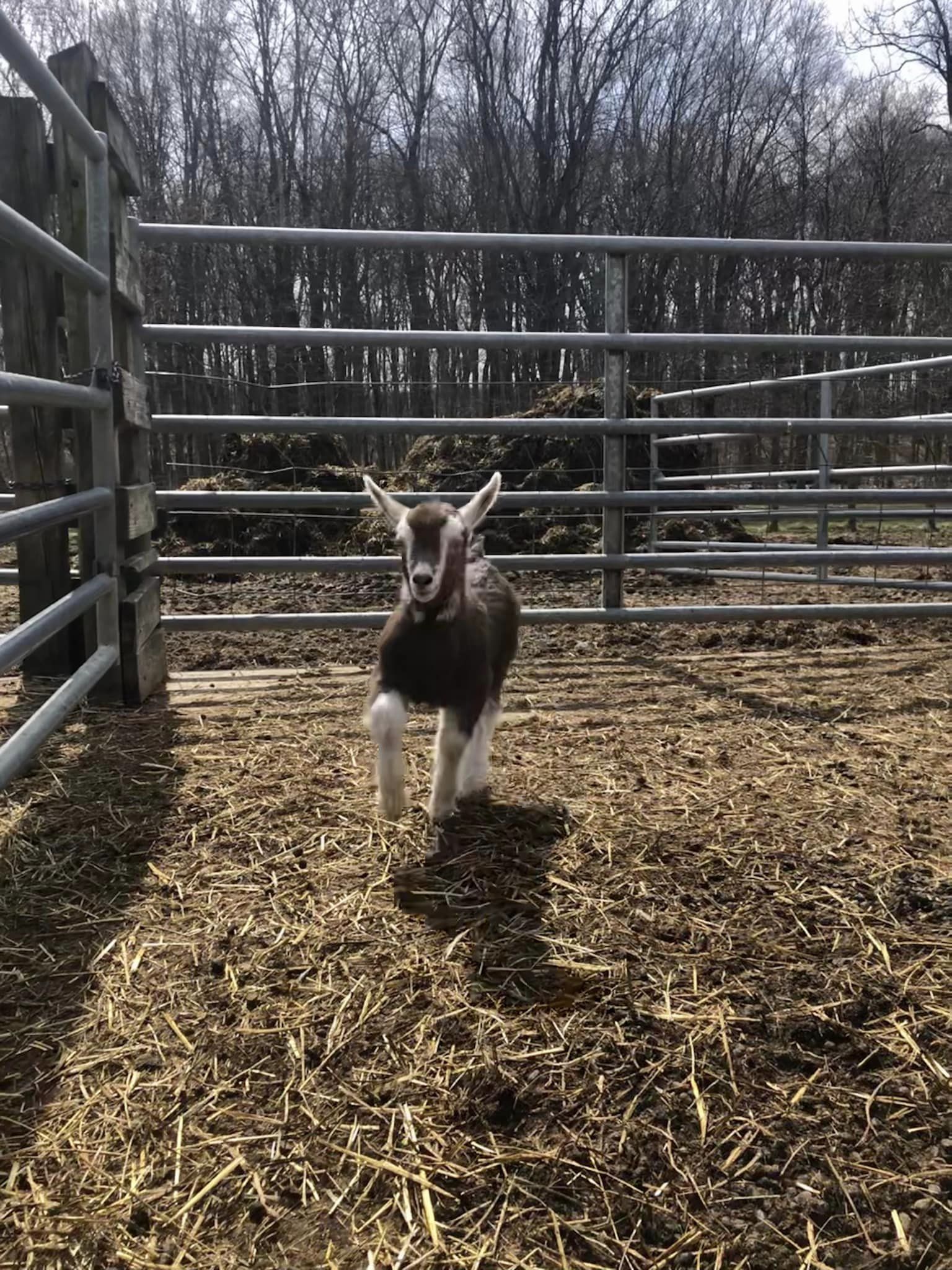 LIFE ON THE FARM MOVES INTO HIGH GEAR
May 15, 2023
Like many sugaring operations in the U.S. and Canada, the fluctuations in temperature this year have adversely affected the maple sugar season at Stratford Ecological Center on Liberty Road. When the temperature is not reasonably consistent above freezing during the day, and below during the night, the sap does not rise, and the collection buckets remain empty.
We were fortunate to collect a record 500 gallons of sap during the second week of February. We filled the evaporator tank and stored the remainder in barrels outside the Sugar Shack. Despite the initial batch taking a long time to finish, the stored sap remained fresh until we could use it. We collected another 500 gallons and had sufficient to demonstrate the art of cooking to many school children and visitors. Ironically, the temperature during the past week has been ideal for sap movement and cooking continued, but we will close the operation on March 17.
Five hundred adults and children attended our Maple Sugar Celebration on Saturday, March 4. We utilized the parking space at the Delaware Township Hall, and our own, and only hit a parking crunch at noon. Fortunately, it took care of itself as people began to leave. We were thankful to have the free service of the Delaware County Transit Service FLEX to transport folks back and forth.
After heavy rain and wind the day before, we enjoyed a sunny day for the event. We expected the Sugar Shack Trail to be a sea of mud but this was not the case. The ground was hard, and the rains washed off into the stream. This year we served pancakes and maple syrup, along with coffee and hot chocolate, in the Education Building, but we hoped people would spend most of their time outdoors feeding the chickens, sampling the abundance in the greenhouse, and visiting the barn and Sugar Shack. Our plans worked well, although at mid-day the crowds were three-deep outside the Sugar Shack, and tweaking will be required next year!
Our first lamb, Pancake, arrived as if on cue on March 2. By Saturday we had six on view in small pens in the barn, and now there are almost twenty healthy lambs. They never cease to bring joy to all who see them, especially when they latch on to feed and wag their tails. As we have so many visitors, we don't enter the pens and pick up the young lambs, but you can poke your fingers between the wooden boards, and deep into the ewe's wooly coat. Their coats will not remain much longer, and you are welcome to join us for our annual Sheep Shearing Day on Saturday, April 22, from 9-1 pm.
Lightening, our black Llama, and a faithful guardian of our animals, sadly passed away on February 20. He came to us in 2015, and we reckon he is now 20 years old. Farmer Jeff spent days nursing him in a heavily bedded pen, as he could not stand up. He appeared to be improving, and held his head up, yet he was really nearing the end of his good life. We still have Rafiki, our brown Llama. He will miss Lightening as they were good pals. Farmer Jeff plans to secure a new companion.
It has been somewhat cold for the salamanders to make their annual trip across the lane from their home under the woodland soil to the Vernal Pool. Nor have we heard or seen the spring peepers and the migrating birds, but it will not be long until temperatures rise, and gentle rains arrive. Two Vernal Pool monitoring opportunities are open to all ages on March 23 and 24 from 6-8 pm.
We are proud to share that Farmer Jeff was nominated and selected as this year's Ohio Ecological Food and Farm Association Service Award winner. This award is presented annually by OEFFA's membership to recognize outstanding service in support of sustainable agriculture. Jeff received the award on February 16 at their annual three-day Conference, held at the Cherry Valley Lodge near Newark. The Lodge proved to be a successful venue for like-minded people to gather and share their experiences.
As a result of the Conference, Jeff was asked to be a part of the delegation from OEFFA attending the "Farmers for Climate Action: Rally for Resilience" in Washington, D.C. March 6-8. Congress is discussing the next Farm Bill, and this was an opportunity to have their voices heard. Jeff caught the ear of Dan Sullivan, a reporter from Lancaster Farming, the leading regional farm newspaper for the NE and mid-Atlantic USA., when he shared that due to climate change "nature is hungry, because the ecosystem can't sustain itself when it's either under water or without water." Jeff went on to use Stratford soils as an example, and Dan stuck with him for the rest of the day and later published his insights.
On March 9 Stratford welcomed our newest full-time employee, Erin Fisher as our Office and Program Coordinator. "Fish" is the first person you will meet on entering the Education Building. Later this month our newest Environmental Educator, Kat O'Malley, will join us.
Stratford's Spring and Summer public programs are now on-line. Bees remain a buzz word with plenty of opportunities to learn about their vital role in the eco-system. Old favorites have returned including Vernal Pool Monitoring; Storytime on the Farm; Birds, Blooms, and You; the Edible Plant Walk ID and Lunch; the Wildflower Walk for Adults; the young people's Garden Tea Party; the Herbal Study Group; the Photography Club and Book Talks. Please check for further information and registration. We look forward to enjoying the coming year together.
Pauline Scott is a farm and nature guide at Stratford Ecological Center, 3083 Liberty Road, Delaware. She can be reached at 740 363 2548 or by email at info@stratfordecologicalcenter.org Stratford's website is www.StratfordEcologicalCenter.org