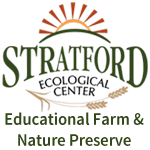 Welcome to Stratford Ecological Center
The Stratford Ecological Center is a non-profit educational organic farm and nature preserve on 236 acres in Delaware County, Ohio. Visitors are welcome to explore the land, hike the 4 miles of nature trails, visit the livestock, tour the gardens and greenhouses or explore the creek, pond, prairie, swamps or State Nature Preserve. Farm products are available for sale seasonally, based on availability.
Stratford offers workshops and classes for children and adults, annual festivals, farm tours, school tours, farm camp and family programs.

Stratford is open to public:  Monday – Friday: 9am – 5pm and Saturday: 9am-1pm
Closed: Sundays and Holidays

February 24 @ 6:30 pm
-
8:00 pm

Maple Sugar Days!
Maple Sugar Saturday Tours
February 25th
Pancake Breakfast
March 4th

2017 Beekeeper Training Programs
Stratford is proud to offer a variety of beekeeper training programs in 2017 designed to give new and aspiring beekeepers a solid foundation of knowledge to help them face the challenges of modern beekeeping.
Good Reading:
Articles of Interest About Life at Stratford
---
Farm Connection:
by Pauline Scott

"Maple Sap Flowing Better Than Expected at Stratford Ecological Center"
read>

---
 Legacy Series:
Recounting the History of the Stratford Ecological Center
and the Warner family.
Written by Louise Warner, Co-Founder
Dedicated to the Memory of Gale Warner
To Legacy Series>
---
Angelina and the Magic of Stratford
This is the story of Angelina and Stratford's 5th grade life science program called Messages from the Earth.

Farm Market
We have a variety of healthy greens for picking in the greenhouse at $4/lb.
A variety of tender Stratford grass-fed beef, lamb, goat and pork is available.
Lamb can be ordered by the half or whole as well as individual cuts.
Half lamb (about 17.5lb) is $120
Whole lamb (about 35 lb.) is $235.
Please call ahead if purchasing a half or whole.
Stratford is also a great place to buy local handmade Spotted Salamander Soap and purchase local honey.
Thank you to our community
supporters and partners!
Volunteer Corner!
*Maple Sugar Tour Guides:  We are looking for guides for our 2017 season. Share your love of nature by leading small groups of children and adults on Maple Sugaring Tours, showing them the early times and practices of maple sugaring. No experience necessary…we will train you!
*Front Desk & Office Assistants – Weekdays & Saturdays
Spend a few hours a week assisting with office duties and welcoming visitors to Stratford. We have openings during the week 9am-5pm and on Saturdays from 9am-1pm.
*Garden & Greenhouse Helpers:  Help water, weed and harvest all the produce in our gardens and greenhouses.  Garden workdays are every Tuesday from 9:30am-12:30pm starting April 1st.  At the heart of it all, our volunteer efforts, helps support our children's programs and the community through fresh harvest donated to PIN of Delaware.
For details, contact Jane: jane@stratfordecologicalcenter.org