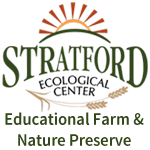 Welcome to Stratford Ecological Center
The Stratford Ecological Center is a non-profit educational organic farm and nature preserve on 236 acres in Delaware County, Ohio. Visitors are welcome to explore the land, hike the 4 miles of nature trails, visit the livestock, tour the gardens and greenhouses or explore the creek, pond, prairie, swamps or State Nature Preserve. Farm products are available for sale seasonally, based on availability.
Stratford offers workshops and classes for children and adults, annual festivals, farm tours, school tours, farm camp and family programs.
Stratford is open to the public: Monday – Friday: 9am – 5pm and Saturday: 9am – 1pm
Closed: Sunday and Holidays
Stratford will be closed May 28th, 29th and 30th and re-open May 31st
Now is the time to re-enroll!
If you have supported Stratford in the past by using your Kroger Rewards Card, now is the time to re-enroll!
Go to www.krogercommunityrewards.com
Click "Sign-in". Enter your email address and password (You will need to set up an account if it is your first time registering)
Search "Stratford" in the organization box and select it
Click "Enroll"


Thank you!
GREAT Opportunities you don't want to miss!
Apiary Assistant for a Day
Scheduling available May – September
Spend a day (4-6 hours) with your hands in the hives as you work alongside 'Apiary' Dave, tending to the bee hives and all their needs. Get a first-hand experience of the daily duties of a beekeeper and a hands-on look into the daily life of our bee hives! $50/person
Call Stratford for more information: 740-363-2548
Photo Contest for Kids
Ages 6-17
Begins May 2,
last entries accepted August 26
Capture in a photo what coming to Stratford means to you!
Ask your parents to take you to Stratford for your photo session.
A prize for each age group, plus a grand prize winner!
More>
Good Reads
Farm Connection:
"The Grass is Greener at Stratford Ecological Center"
by Pauline Scott
Farm Market
The greenhouse has a variety of "pick your own" greens available, including dandelions, spinach, lettuce, kale, cilantro & more.
Beef, Lamb & Pork are available.
Thank you to our community
supporters and partners!
Welcome New Stratford Family

Welcome New Stratford Family!

Volunteer Opportunities!
Upcoming Opportunities:
If you missed our Spring Guide Training, you can still help! We have Spring Field Trips from now until May 27th on Wednesday, Thursday and Fridays. If you love nature & children, this is an opportunity you don't want to pass up. We will have you 'shadow' experienced guides until you get comfortable to guide a small group on your own.
Front Desk & Office Assistants Needed – Spend a few hours a week assisting with office duties and welcoming visitors to Stratford. Openings Weekdays & Saturdays
Invasive Species Volunteer Teams – Every Tuesday & Thursday -9:30am-12:30pm
Garden & Greenhouse Helpers – Stratford's gardens and greenhouse need dedicated volunteers to help water, weed and harvest all the produce. Garden workdays are every Tuesday from 9:30am-12:30pm.

For details, contact Jane: jane@stratfordecologicalcenter.org
or click here>