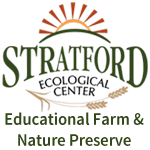 Welcome to Stratford Ecological Center
The Stratford Ecological Center is a non-profit educational organic farm and nature preserve on 236 acres in Delaware County, Ohio. Visitors are welcome to explore the land, hike the 4 miles of nature trails, visit the livestock, tour the gardens and greenhouses or explore the creek, pond, prairie, swamps or State Nature Preserve. Farm products are available for sale seasonally, based on availability.
Stratford offers workshops and classes for children and adults, annual festivals, farm tours, school tours, farm camp and family programs.
Stratford is open to the public: Monday – Friday: 9am – 5pm and Saturday: 9am – 1pm
Closed: Sunday and Holidays
August 9 @ 10:00 am
-
11:00 am
Enchanted Evening 2016
August 13
5:30-10:00pm
Guests at an Enchanted Evening will enjoy an elegant summer affair on the lawn at Stratford Ecological Center.  The evening features a dinner buffet of food selections from local restaurants, live Jazz music, romantic horse-drawn carriage rides, and a silent and live auction. Featuring a wild animal presentation by Suzi Rapp of the Columbus Zoo and Aquarium.
Ticket Options:

Table Sponsor – $1,000 –
(special recognition & seating for 8 guests)
One Couple    –  $  150
Individual       –   $   75
Photo Contest for Kids ages 6-17
Begins May 2,
last entries accepted August 26
More details>
Good Reading:
Articles of Interest About Life at Stratford
---
Legacy Series:
Recounting the History of the Stratford Ecological Center and the Warner family.
Written by Louise Warner, Co-Founder
Dedicated to the Memory of Gale Warner
To Legacy Series>
---
Farm Connection:
"Families Flock to Stratford Ecological Center for Story Time"
by Pauline Scott
Read Farm Connection>
---
Angelina and the Magic of Stratford
This is the story of Angelina and Stratford's 5th grade life science program called Messages from the Earth.

Farm Market
The greenhouse has a variety of "pick your own" greens available, grown by interns and volunteers, including spinach, kale, lettuce & more.
Beef, Lamb & Pork are available.
Thank you to our community
supporters and partners!
Volunteer Corner!
A BIG THANKS to the Hay Crew that came on Tuesday, 6/14!  You broke Stratford records by baling 776 bales in record time!!! And a BIG THANKS to the Garden Crew for getting in the scented geraniums in our Gazebo Garden!!!

Summer Volunteer Opportunities
Front Desk & Office Assistants: Openings available for weekdays and Saturdays – This is a fun opportunity to learn all about Stratford!  Some of the takes include: answering phones, selling Stratford products, having a friendly smile and a knowledge of Stratford.
Haying Crew Helpers:
Summer and fall is the time our farmer fills the hayloft with food to sustain the animals throughout the winter months.  No experience necessary.  We will train you.
Garden & Greenhouse Helpers: Every Tuesday & Thursday -9:30am-12:30pm – Help keep Stratford's children's garden, giving garden, greenhouses, vegetable field and landscape beds producing and looking beautiful! Join our Garden Crew, learn about horticulture while helping to further Stratford's mission.
For details, contact Jane: jane@stratfordecologicalcenter.org
or click here>