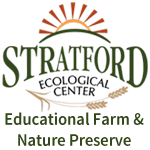 Welcome to Stratford Ecological Center
The Stratford Ecological Center is a non-profit educational organic farm and nature preserve on 236 acres in Delaware County, Ohio. Visitors are welcome to explore the land, hike the 4 miles of nature trails, visit the livestock, tour the gardens and greenhouses or explore the creek, pond, prairie, swamps or State Nature Preserve. Farm products are available for sale seasonally, based on availability.
Stratford offers workshops and classes for children and adults, annual festivals, farm tours, school tours, farm camp and family programs.
Stratford is open to the public: Monday – Friday: 9am – 5pm and Saturday: 9am – 1pm
Closed: Sunday and Holidays
August 26 @ 6:30 pm
-
8:00 pm
     
Allergies & Herbalism Class
August 27, 2-4pm
Join Erika Galentin for a class on all things allergies! Erika is a Medical Herbalist and an TEC certified Clinical Aromatherapist. During this class you will learn about how allergies manifest in the body & about the herbs that can be used to support our wellness.
Photo Contest for Kids ages 6-17
Begins May 2,
last entries accepted August 26
More details>
Good Reading:
Articles of Interest About Life at Stratford
---
Farm Connection:
"Enchanted Evening "Rain Plan" Worked at Stratford Ecological Center"

by Pauline Scott
Read Farm Connection>
---
Legacy Series:
Recounting the History of the Stratford Ecological Center
and the Warner family.
Written by Louise Warner, Co-Founder
Dedicated to the Memory of Gale Warner
To Legacy Series>
---
Angelina and the Magic of Stratford
This is the story of Angelina and Stratford's 5th grade life science program called Messages from the Earth.

Farm Market
The greenhouse has a variety of "pick your own" greens available, grown by interns and volunteers, including squash, kale, tomatoes & more.
Beef, Lamb & Pork are available.
Thank you to our community
supporters and partners!
Volunteer Corner!
*
Fall Farm & Nature Guide Training
– September 7th, 10am-1pm
Share your love of nature by becoming a Farm & Nature Guide, leading small groups of children on adventures around the farm & nature preserve. Fall field trips Sept. 8th-Oct. 28th, Wednesdays, Thursdays & Fridays.
*Front Desk & Office Assistants – Weekdays & Saturdays
Spend a few hours a week assisting with office duties and welcoming visitors to Stratford. We have openings during the week 9am-5pm and on Saturdays from 9am-1pm.
*Messages from the Earth Guides – A curriculum focused on science for 5th grade classes. Our guides lead students on our trails, through our fields and forest, stopping at stations along the way to participate in hands-on science activities.
*Special Events Crews – Stratford hosts several special events each year. You can get involved in many ways, from planning, to set up and take down, working the event and more.
For details, contact Jane: jane@stratfordecologicalcenter.org
or click here>