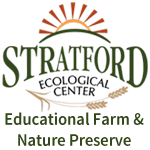 Welcome to Stratford Ecological Center
The Stratford Ecological Center is a non-profit educational organic farm and nature preserve on 236 acres in Delaware County, Ohio. Visitors are welcome to explore the land, hike the 4 miles of nature trails, visit the livestock, tour the gardens and greenhouses or explore the creek, pond, prairie, swamps or State Nature Preserve. Farm products are available for sale seasonally, based on availability.
Stratford offers workshops and classes for children and adults, annual festivals, farm tours, school tours, farm camp and family programs.
Stratford is open to public:  Monday – Friday: 9am – 5pm and Saturday: 9am-1pm
Closed: Sundays and Holidays

Stratford will be closed November 23, 24, 25 and 26.
December 15 @ 6:30 pm
-
8:00 pm
December 16 @ 10:00 am
-
1:00 pm
December 25 @ 8:00 am
-
9:00 am
Stratford is Going Solar!

 Stratford is launching an $115,000 capital campaign to fund a comprehensive solar array of 156 panels on top of our barn and machinery shed to provide 90% of our electric needs.  We are providing you (and your family or group of folks) an opportunity to make a "one-time" donation to buy a $200 solar panel to help us achieve our goal.
With your donation you will:
• Reduce carbon emissions by keeping fossil fuels in the ground.
• Promote alternative energy to the many thousands of public visitors at Stratford.
• Help Stratford to be more financially sustainable.
• Place more financial resources saved by producing our own electric toward children's programs.
• Model & educate people on sustainability and self sufficiency by being "off the grid".
• Have your name proudly displayed in the lobby of our education building at Stratford. Your name will be listed on our Solar Campaign exhibit displayed in our reception area in the following manner:
Sunbeam – Donation of $200 (1 panel)
Power Ranger – Donation of $1,000 (5 panels)
Solar Supreme – Any donation of $1,000

OR donate on-line!
Please indicate in "Comments" how to apply your donation.
Congratulations Louise, Clyde & Pauline!

In September Stratford's co-founder Louise Warner and Clyde Gosnell were awarded the
2017 Leadership in Philanthropy Award by The Columbus Foundation.
Read the article here>
Stratford volunteer Pauline Scott was awarded
The Warner Family Board Trustee Distinguished Service Award this past August.
Read the article here>
More to Read about Stratford's Historic Cemetery
Farm Market
We have tender, grass fed lamb, beef, goat & pork available.
Lamb Sale!  Half lamb available at $100 and whole lamb at $195.
Please call ahead of purchasing 1/2 or Whole Lamb.
Ground Beef Sale!  $5/lb. until the end of November!
Quart bags of grass fed beef suet at $3/bag
Pick Your Own kale, mizuna and spinach is available in the greenhouse at $4/lb.
Stratford is also a great place to buy local handmade Spotted Salamander Soap and purchase local honey.
Thank you to our community
supporters and partners!
What Stratford is All About
Volunteer Corner!
*Front Desk & Office Assistants – Weekdays & Saturdays
Spend a few hours a week assisting with office duties and welcoming visitors to Stratford. We have openings during the week 9am-5pm and on Saturdays from 9am-1pm.
*Fall & Spring Farm & Nature Guides  – Farm & Nature Field Trips are scheduled on Wednesdays, Thursdays, & Fridays. If you love nature and children, this is an opportunity you don't want to pass up. No experience necessary. We will train you!
*Cemetery Restoration – Help with researching, restoring, and preserving the historical 1800's cemetery! We are currently probing and digging for markers that have fallen beneath the ground surface.
*Messages from the Earth Guide –  Messages from the Earth is a life science program for 5th graders that occurs during the school year. Guides spend the day with up to 10 students, leading them on the trails to stations where there are activities designed to teach them a particular life science concept. One station is a giant leaf where students go inside to learn about photosynthesis. Another has them carrying buckets of water up hill to demonstrate how the sun's energy is needed to drive the water cycle. The day also includes visits to the animals in the barn and the all-time favorite activity, Magic Spot. Each student attends 5 days: 2 days in fall, 1 day in winter, and 2 days in spring. Training provided!
For details, contact Emily at emily@stratfordecologicalcenter.org