Family & Individual Programs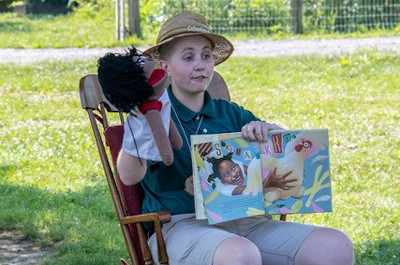 Story Time on the Farm
2nd Monday of the Month                        April – October, 10am – 11am
Stories are a fun way to introduce young children to nature and farm life. Each Story Time will have a theme based on the seasonal happenings at the farm and nature preserve. After listening to the story the children will then bring the story to life as they visit the animals.
$5 per child, walk-ins welcome, no registration required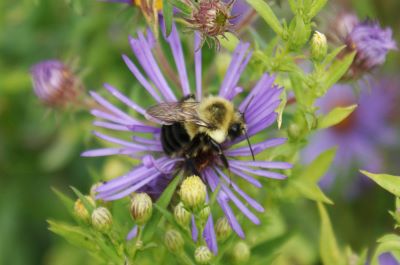 Meet the Pollinators
3rd Saturday of the month
March – September, 1pm – 3pm
August session will be August 27th, 1pm – 3pm
Come join us at Stratford Ecological Center for a fun two hours of learning about pollinators and their habitats. We will do a leisurely stroll around the farm and learn about native bees, butterflies and other insects that help with pollination. Each of these pollinators play a vital role in the food chain that we humans are a part of. Each month the farm changes and new wonders will be found, so plan on joining us every month for new bees and topics. All ages welcome. Children must be accompanied by an adult.
$10 per person, limited spaces available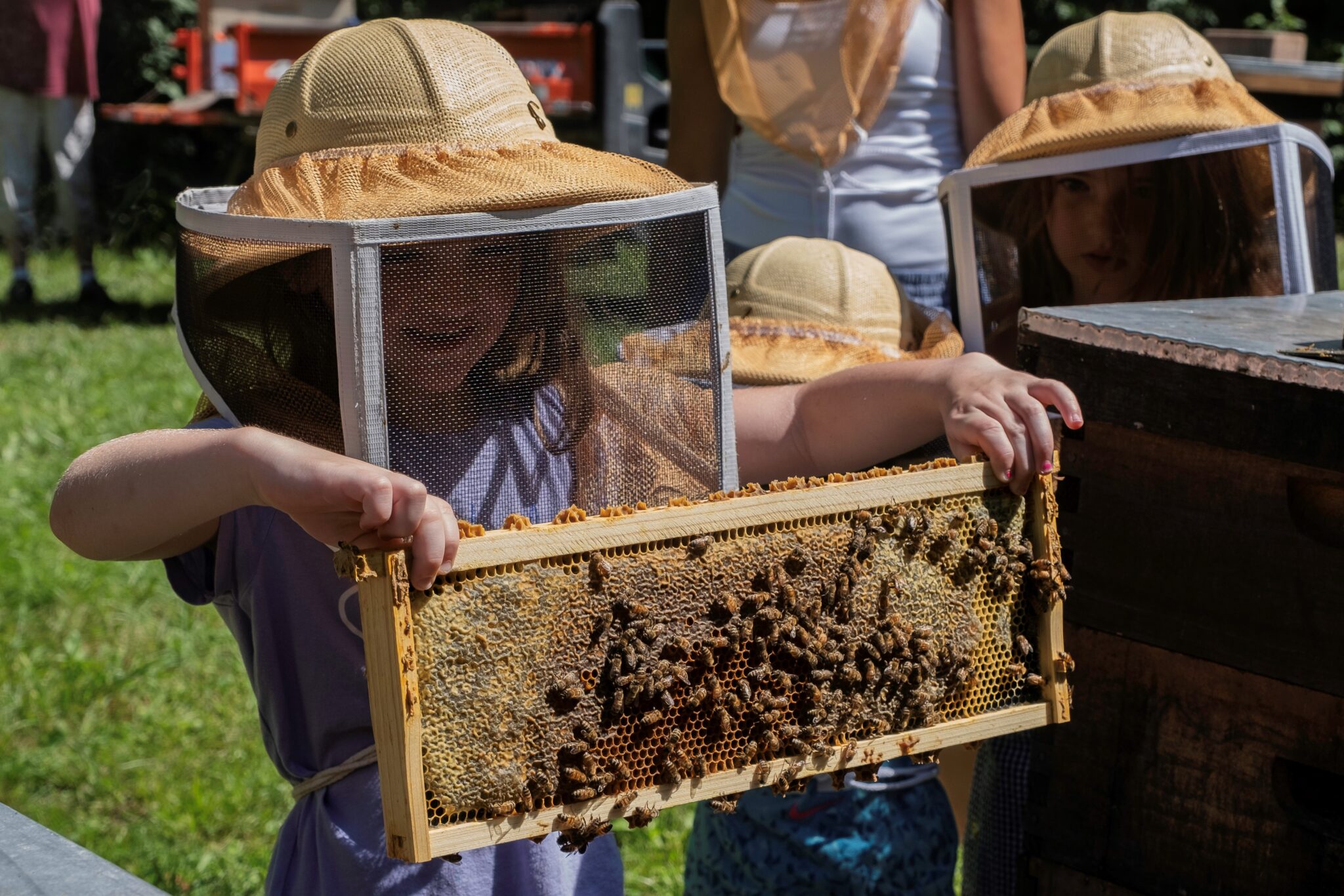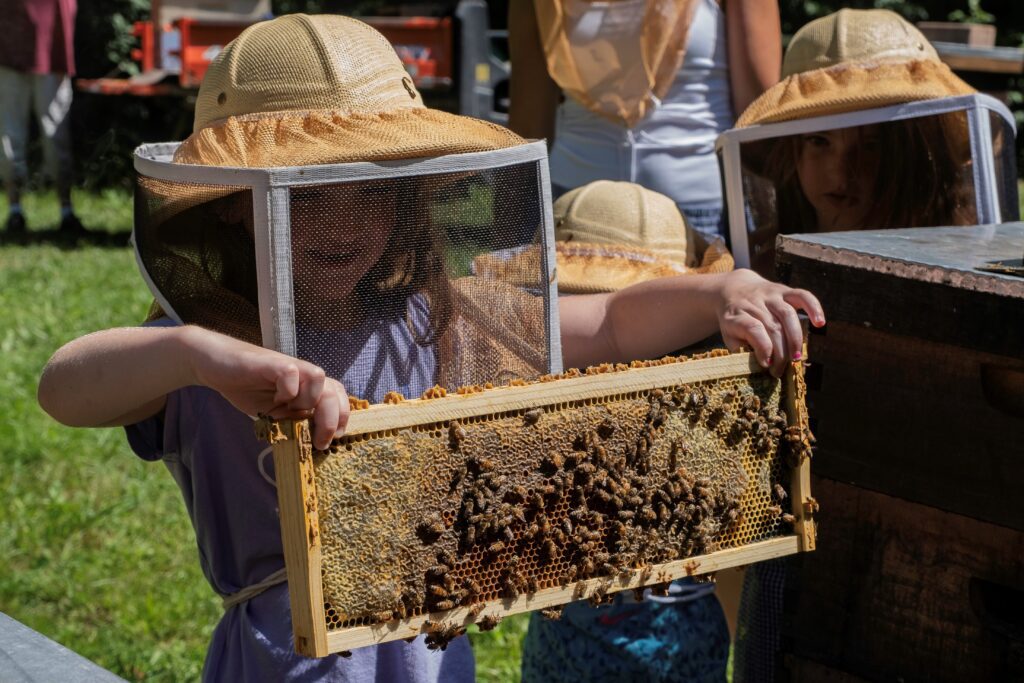 Meet the Bees – Hive Tour
3rd Saturday of the month                     April – September, 10am – 12pm
Head out to the bee hives with a member of Stratford's Apiary Team.  You will get a firsthand look inside a living bee hive to learn about how they work and live together! Be sure to wear long pants with long socks to tuck your pants into and a long sleeved shirt or jacket. We will provide veils.
$15 per person, limited spaces available
Garden Tea Party
August 4th, 2022
2pm – 4pm
A tea party that lives up to its name as girls and boys venture into the Stratford garden to harvest fruits, vegetables, flowers, herbs, and collect fresh eggs from the hen house. Participants may brew their own choice of herbal tea, create a flower arrangement for the tea table, prepare sandwiches from scratch, and enjoy homemade delights. Bring a special tea cup if you like. Tea party attire encouraged, but optional.
$25 per adult + 1st child (ages 5 – 12), $10 per additional child
Limited spaces available, online registration required.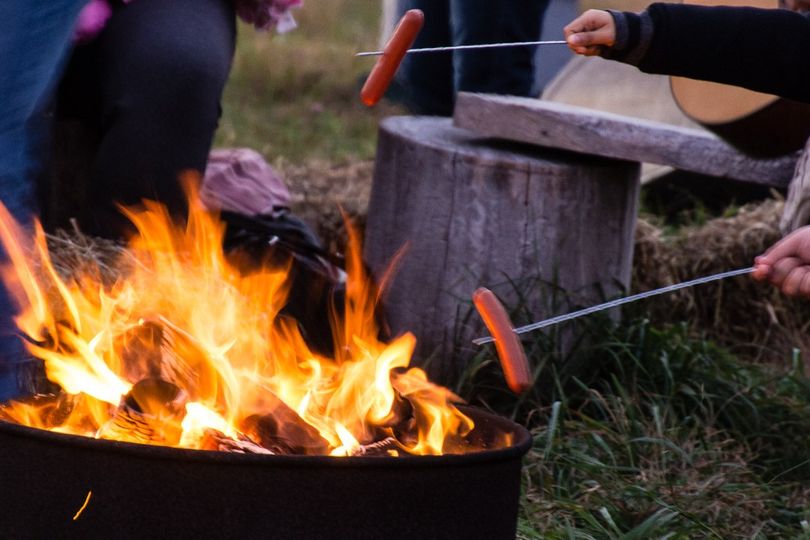 Fall Family Campfire
Date & time coming soon!
Arrive at 5pm to visit the animals before taking a wagon ride along the pastures, prairie and woods to the campfire beside the pond. Explore the prairie paths and banks of the pond before roasting hotdogs and marshmallows. Settle down with a cup of hot cider to listen to a story and join a sing-along. Return in the dark on an optional night hike to the patio where each child may choose a pumpkin to take home. This is an evening for families, individuals and friends.
$10 per family – bring your own hotdogs & marshmallows to roast.  Registration details coming soon!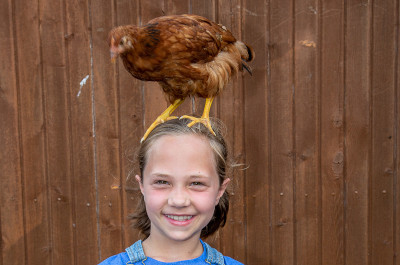 Family Farm Chores
3rd Saturday of the Month                      April – September, 9am – 10:30am
SOLD OUT, e-mail info@stratfordecologicalcenter.org to be placed on the waitlist.  Make sure to mention Family Farm Chores and include the date(s) you'd like to be on the waitlist for.
Rise with the rooster and head out to the farm to assist the farmer with morning chores. Families will learn about the special needs of a diverse small family farm while feeding grain and hay, filling water and gathering and washing eggs.
$5 per person, limited spaces available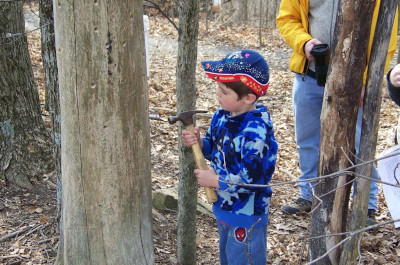 Maple Sugar Tours
Check back for 2023 dates!
Discover the wonder of this local Ohio natural food. Join our experienced Sugar Cookers for an intimate, one hour tour and hands-on experience in the sugar bush. Learn how to tap a maple tree, help collect sap and about the evaporation process in the sugar shack, while spending time in Stratford's beautiful forest! Local maple syrup will be available for purchase.  Tours are one hour long and depart every half hour with the last tour leaving at noon.  Be sure to check out our Maple Sugar Celebration on March 5th too! Advanced registration required.
$8 per person, limited spaces available    (ages 2 and under are free – no need to register a space for them)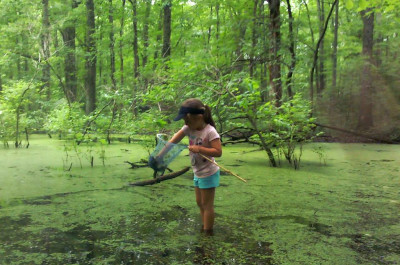 Vernal Pool Monitoring
Check back for 2023 date!
It's time for the spring awakening in the wetlands. At 6:30pm vernal pool experts will help you get up-close and personal with some of the creatures who make the vernal pools their home. After learning inside we will put on our mud boots for a night hike to the vernal pool. We will listen for mating calls and look for salamanders, frogs and egg masses. You will be participating in a state-wide preservation effort of one of Ohio's disappearing ecosystems.
$5 per person, limited spaces available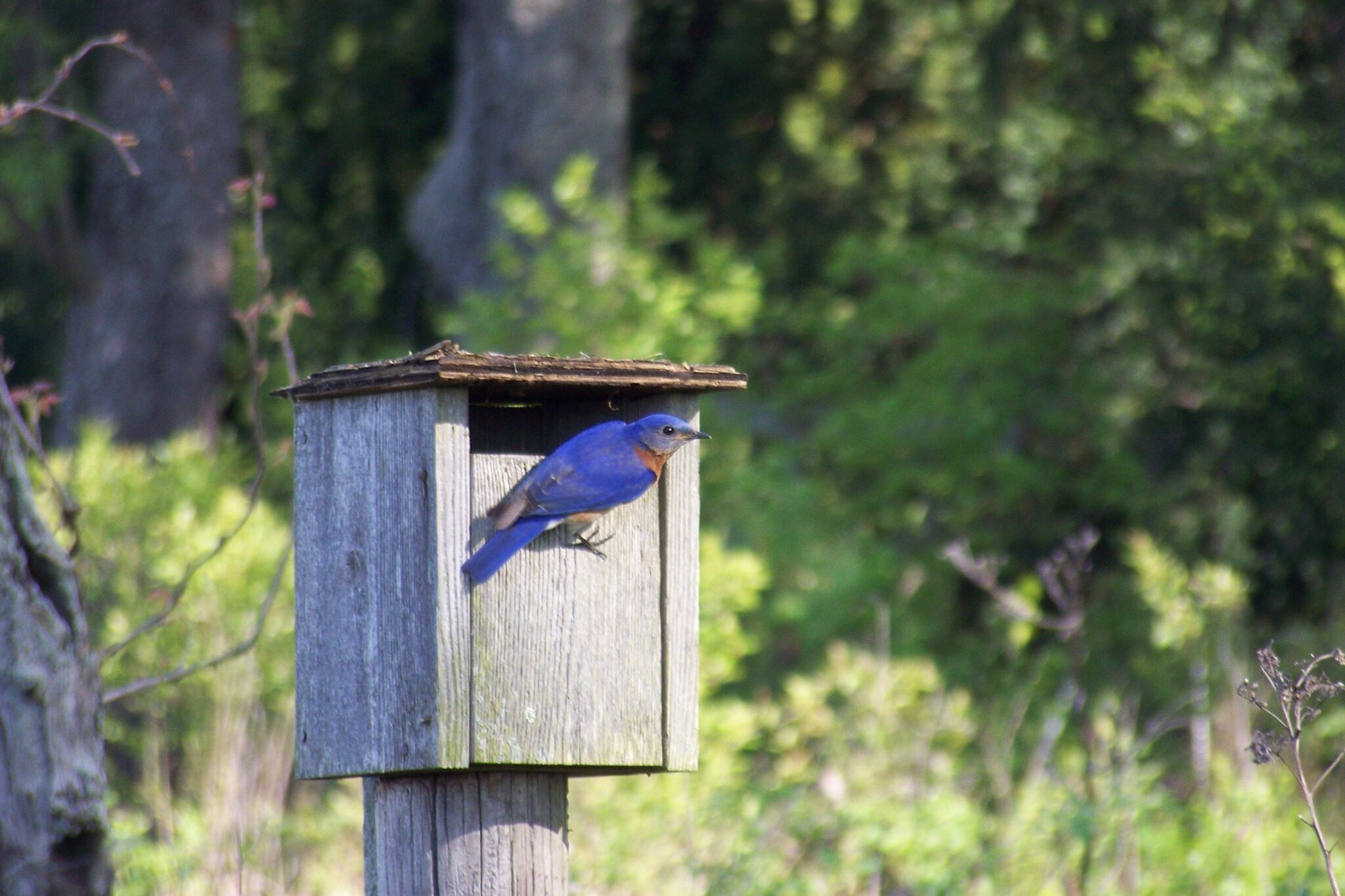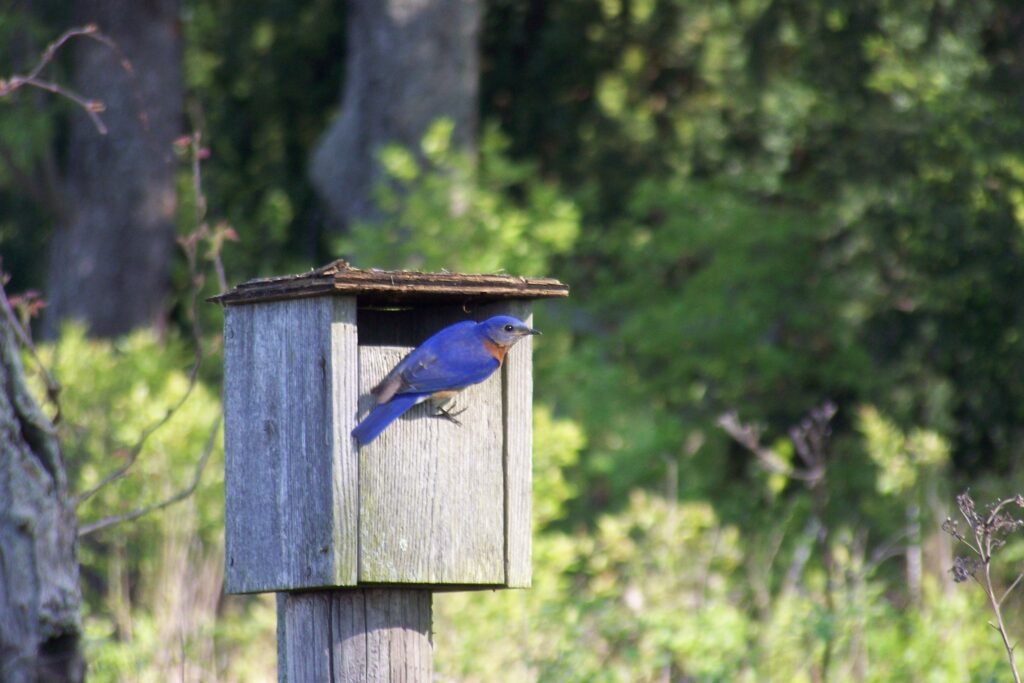 Birds, Blooms, & Breakfast
Check back for the 2023 date
Early May is the perfect time to enjoy both the birds & the wildflowers at Stratford. Enjoy the morning bird concert while walking the trails in small groups led by experienced birders. Coffee, sweet treats & breakfast will be served. You are welcome to stay afterwards to hike more trails and visit the farm. Are you already a birder? The "Prime-Time" session (6am – 8am) is perfect for you! New to birding? The "Not Quite Ready for Prime-Time" session (8am – 10am) is meant to be enjoyed by all! You are welcome to stay afterwards to hike more trails and visit the farm.
$25 for adults, $15 for youth (ages 6 – 17), limited spaces available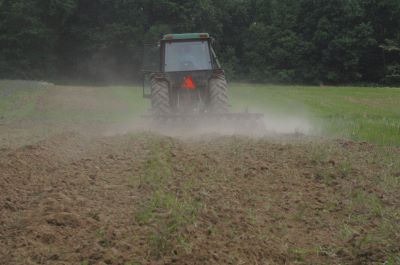 Regenerative Agriculture
3rd Saturday of the month:                      April – September 2022, 11am – 1pm      New topics each session
Join Stratford's Farmer – Jeff Dickinson – and other experts to explore the principles and practices of a healthy food system.  Whether you are interested in farming or you would simply like to learn more about local agriculture, this series will take you behind the scenes for a first-hand experience on a real working farm.  This series will explore farming stewardship practices related to biodiversity, the conservation of natural areas, the soil food web, integrating grass-fed livestock, and apiculture.  New topics each session – View the Public Events Calendar for a specific session topics.
$25 per person, per session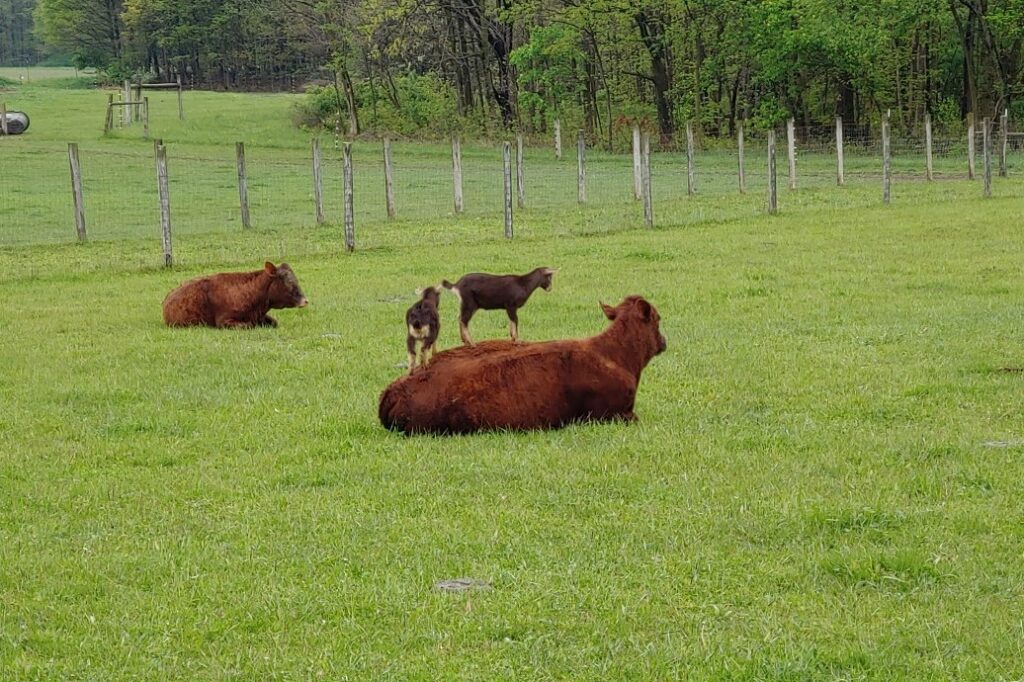 Hatha Yoga on the Farm
3rd Thursday of the month, 2pm – 3pm      April – September
Immerse yourself in the sights and sounds, (and smells) of a working farm while moving your body through a series of yoga postures. Hatha yoga includes breath work, as well as physical postures designed to help you gain strength, flexibility, and balance. This beginner friendly practice will move through a series of seated, kneeling, standing, and reclined postures. Bring your own yoga mat and/or beach towel and a water bottle. Stick around after class to visit the animals, take a stroll through the forest, or shop in our farm store. Or just sit back and bask in that yoga afterglow while enjoying time in nature.
$10 per person per session, limited spaces available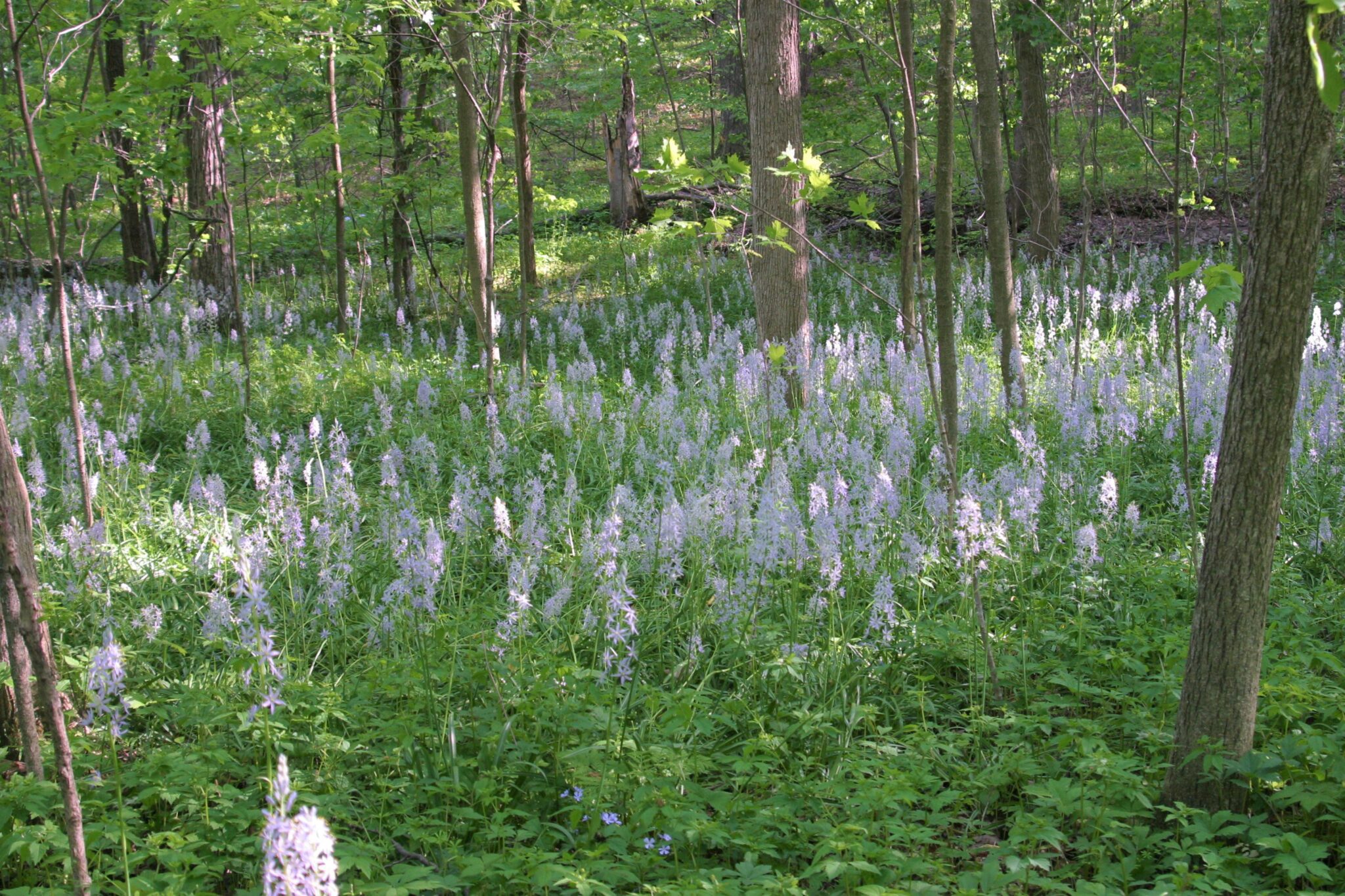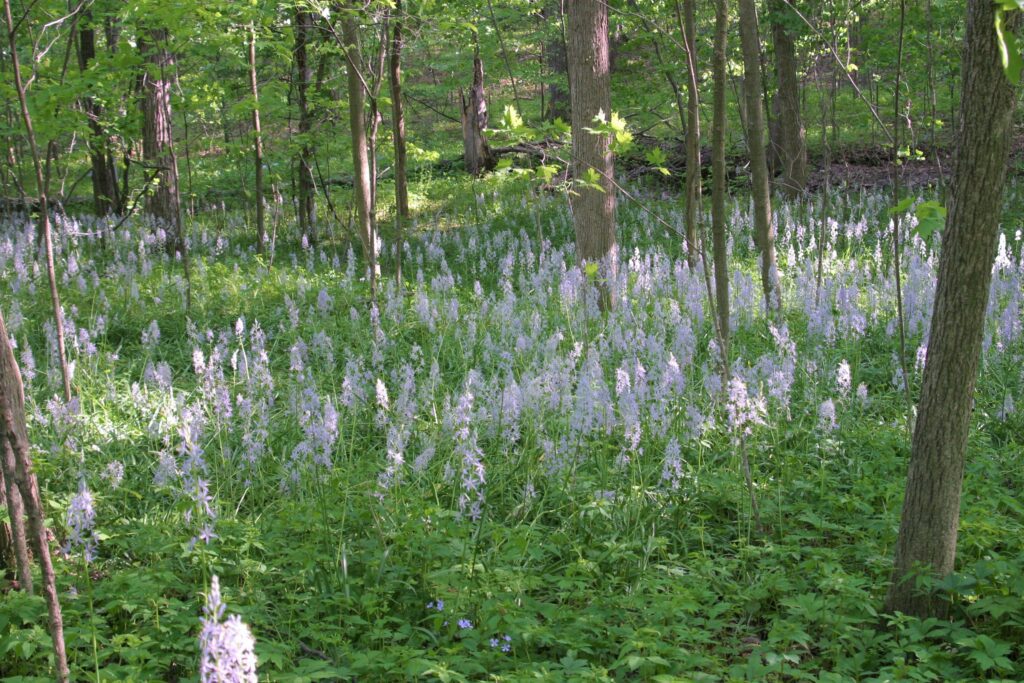 Wildflower Walk for Adults
Check back for 2023 date!
Join naturalist Bob Harter, for a spring walk through Stratford's Nature Preserve, home to a diversity of wildflowers. View the carpet of wild hyacinths, hillsides of trillium, find a jack-in-the-pulpit, green dragon, wild geraniums and many more. Dress for the weather for this inspiring display of nature's beauty.
$5 per person, limited spaces available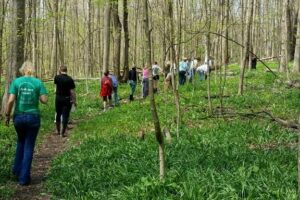 Edible Plant Walk ID & Lunch
Check back for 2023 date!
Join veteran members of Stratford's Herbal Study Group for a spring walk in our gardens and woods to identify and learn how to incorporate culinary wild plants in your own meals. Then stay for lunch and sample dishes made from edibles obtainable this time of year. Handouts and recipes will be available to reinforce your learning experience.
$25 per person, limited spaces available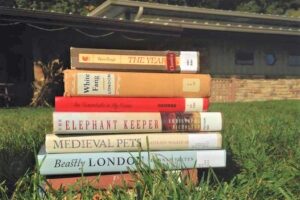 Book Talks
3rd Friday of the month, 1:30pm – 3:30pm
Explore literary works in a lively discussion on topics ranging from agriculture, nature writers and homesteading. If you would like to learn more about available books related to a particular subject, librarian Liz Barker will help you discover a treasure of great reading.
$10 for the entire year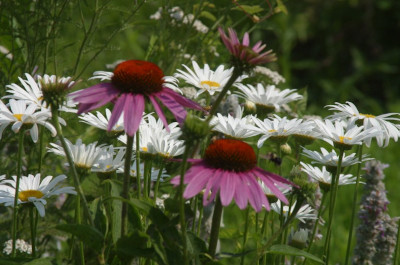 Herbal Study Group
2nd Tuesday of the month,                    January – December
Come together for a sharing circle to explore the many uses of wild and cultivated plants. Each month the group examines a different herbal topic and works together in the herb garden, tending, harvesting and learning from each other. This is a hands-on, participation-led group and wonderful way to get more comfortable using herbs. All skill levels welcome! Meeting time varies with the season – see the Public Programs Calendar for exact times and topics.
$10 per person for the entire year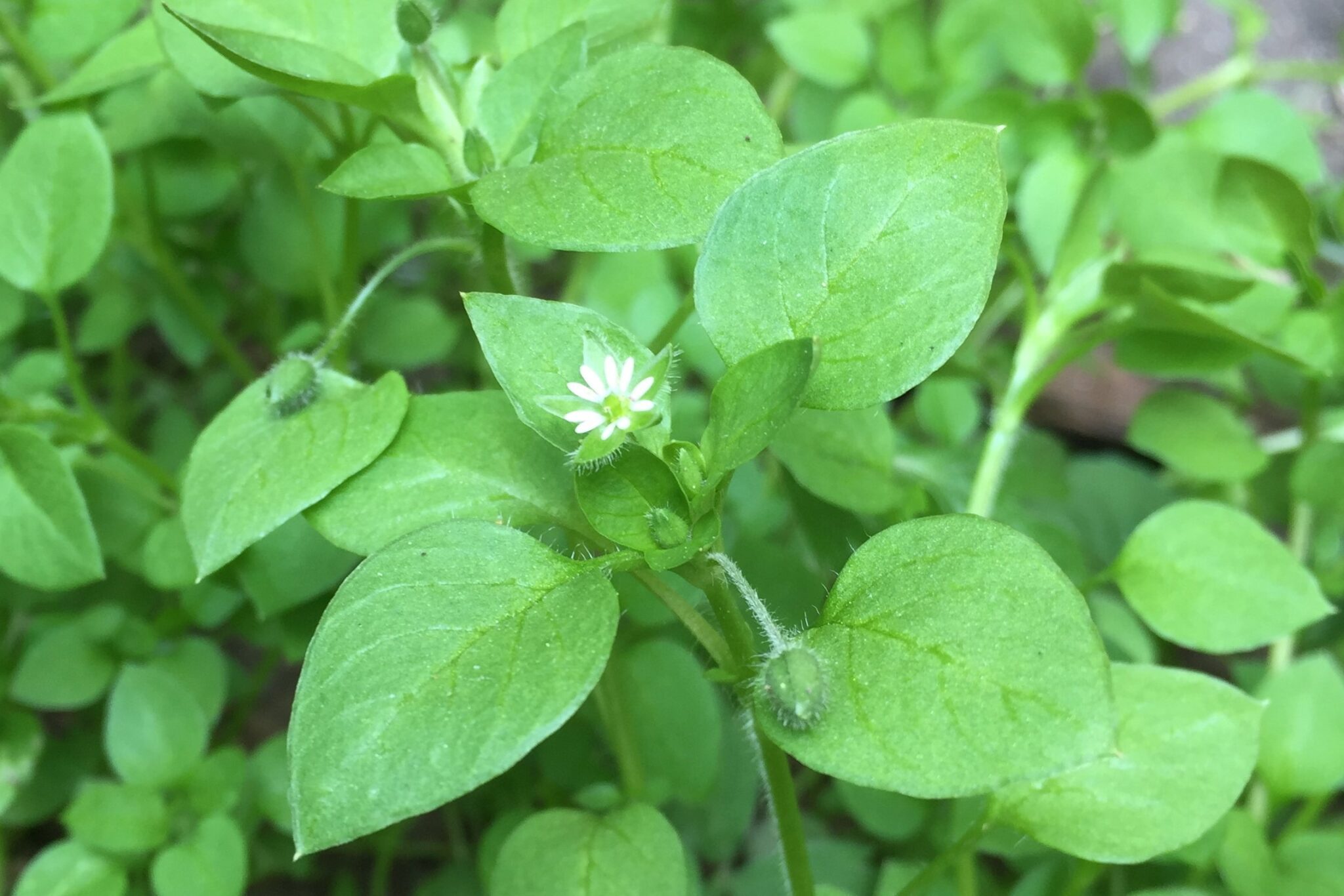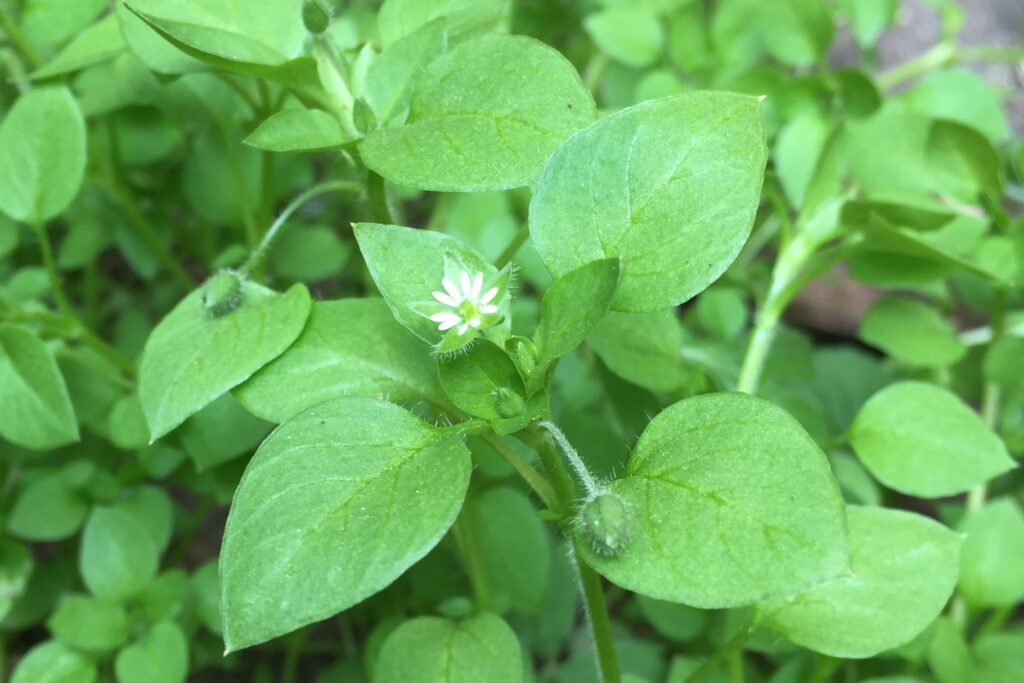 Weed Identification with DCMG
Tuesday, March 8th, 1:30pm – 4:30pm
Join the Delaware County Master Gardeners to learn the basics of identifying plants using weeds and the weed key from Weeds of the Northeast. If you have a copy, bring it! If not, copies will be provided for sharing. Even if weeds are not your "thing," you will learn the basics of using a key. You can then use a tree key, a spring wildflower key or other—with a little practice, of course! We will be in the classroom, but your hands will get dirty!
FREE, but registration required, limited spaces available.
E-mail AprilHoy@stratfordecologicalcenter.org to save your spot.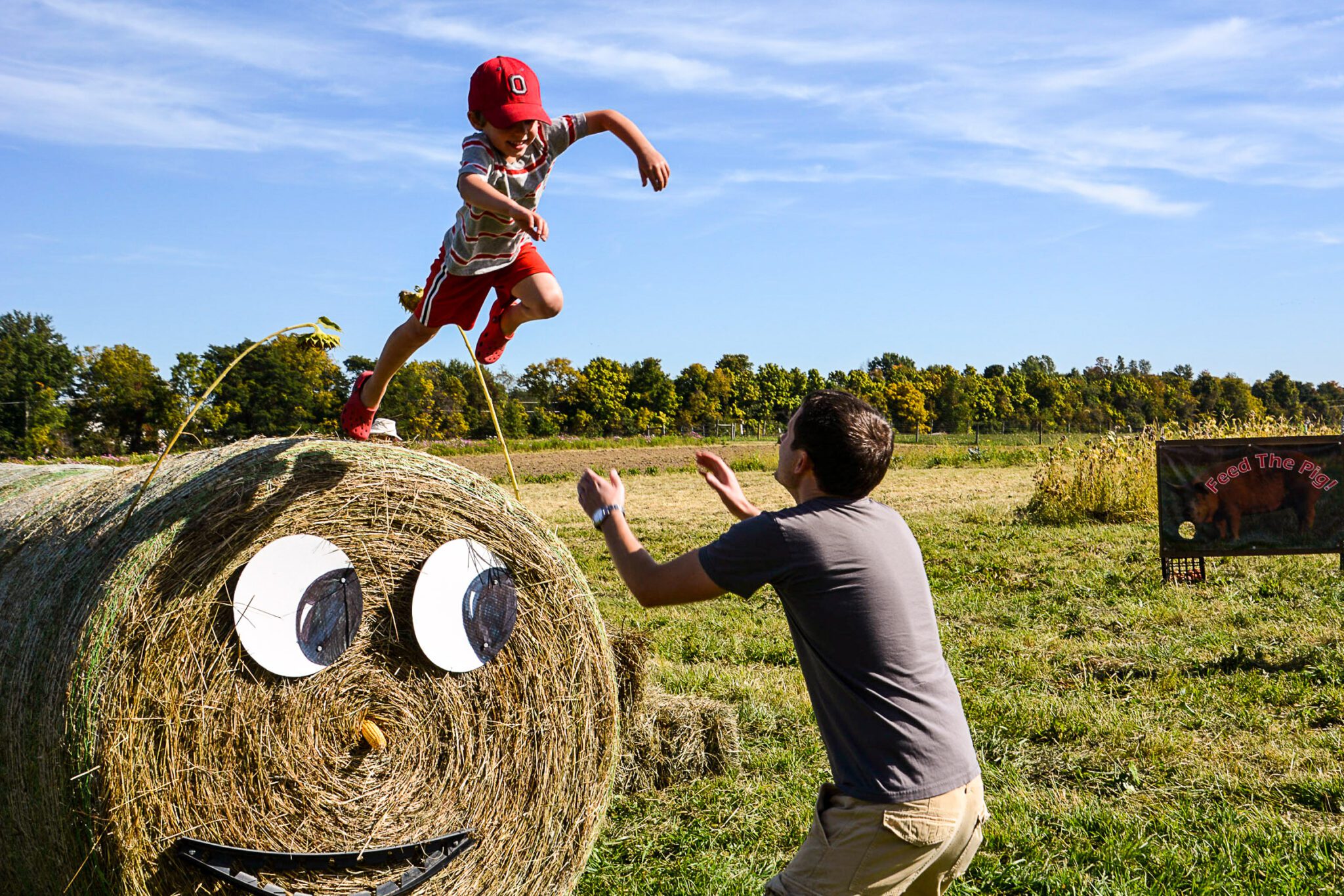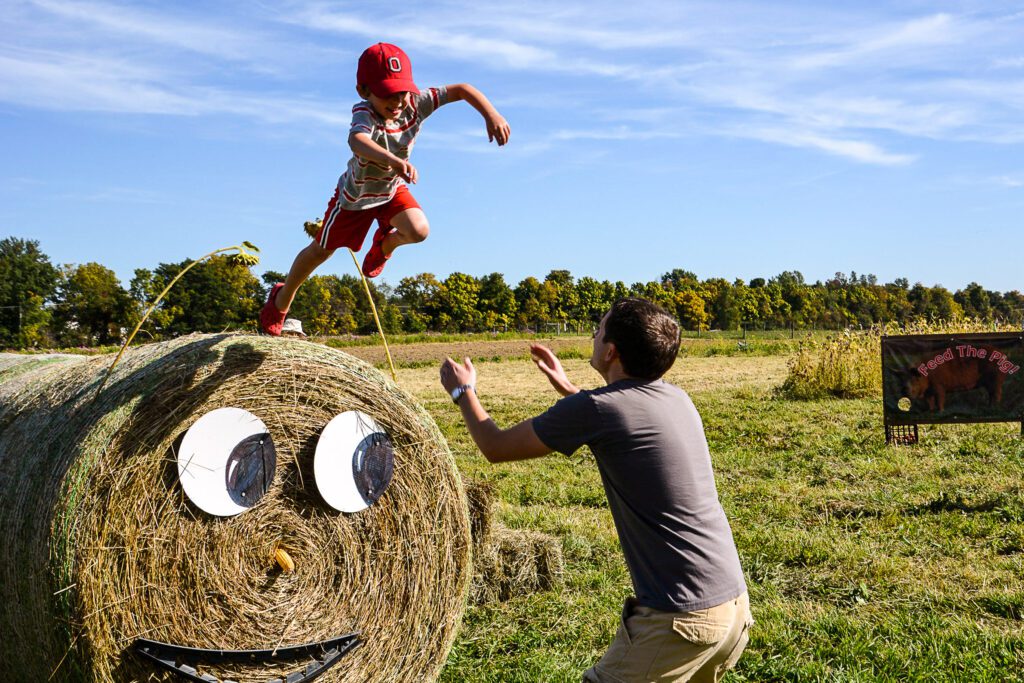 Harvest Fair
Saturday, October 1st, 2022                  10am – 3pm
Help us celebrate the harvest at one of Stratford's biggest events of the year! Kids of all ages can discover their inner farmer at this family friendly event. Climb a tractor, paint your face, feed the chickens, ride a horse drawn wagon, and hike the trails. It is a great opportunity to get the kids outside to have fun with the Stratford family!
$5 per person. Ages 2 and under free.  Walk-ins welcome. No registration required.
Maple Sugar Celebration
Check back for the 2023 date!
Bring the whole family to Stratford for a self-guided exploration to celebrate this special time of year.  Celebrate the maple sugar season with us as you hold a new baby lamb, learn how to tap a tree, visit the Sugar Shack, taste maple sap & syrup, visit the greenhouse, feed the chickens, and more. After your adventure, warm up by the fire as you enjoy a cup of hot chocolate or coffee and a maple cookie (To help save on waste, bring your own reusable thermos or mug!). Take home the makings of a delicious and hearty Stratford breakfast too – Stratford Family pancake mix, pure maple syrup, and farm fresh sausage will be available for purchase.
$10 per person. Ages 2 and under free.  Limited spaces available. Online registration for your family's arrival time is required due to potential limited parking during muddy, spring weather.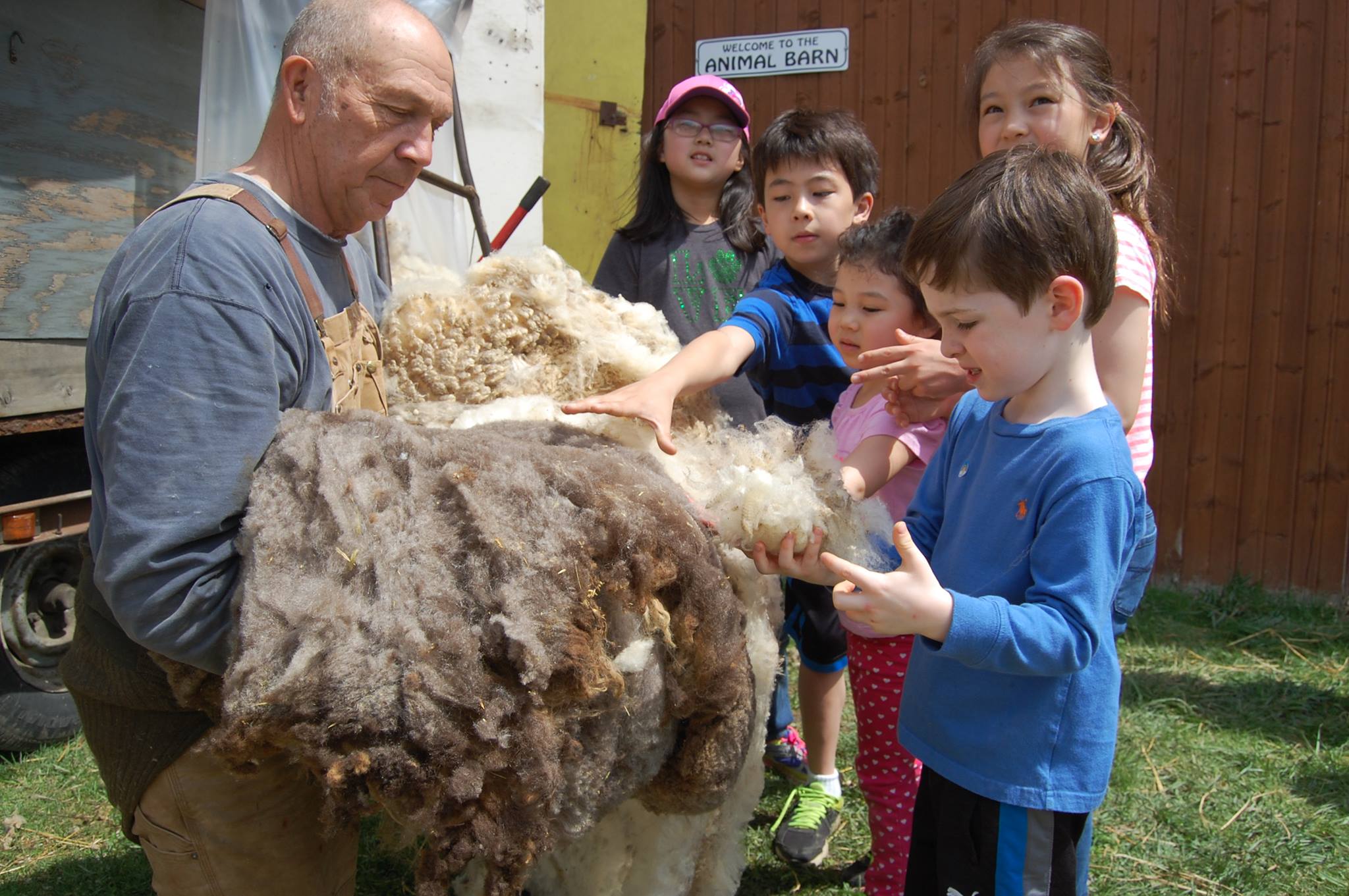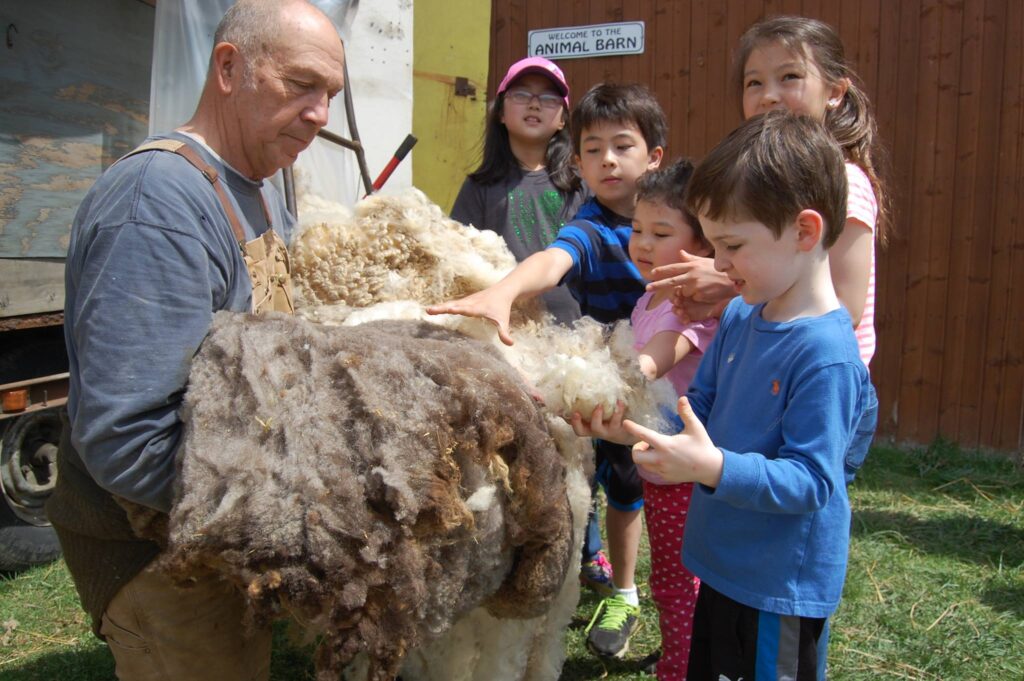 Llama & Sheep Shearing Day
Check back for the 2023 Date!
Bring the whole family to Stratford for a wooly experience! Stratford will provide visitors with an engaging experience while the resident sheep and llamas receive their annual shearing. The flock will be shorn throughout the day, and our shearers will interpret the process from start to finish. Your family can visit stations to learn how wool is processed and enjoy lunch from a local food truck. Participate in hands-on fiber projects, visit the babies in the barn, take a picture with Little Bo Peep, see a dog herding demonstration, toss feathers up and see the tree swallows catch them out of thin air, hike the trails on a guided wildflower walk and more!
$5 per person, ages 2 and under free.  Walk-ins welcome, but register now to let us know you're coming to help us estimate the attendance for the day, and guarantee a speedy check-in process when you get here!